As part of the planning process, architects and developers often require a pre-development survey of trees on the site, more commonly known as a BS5837 survey.
Trees are important in new developments as they lend a sense of maturity, provide a softening effect, improve air quality and are beneficial for mental health. They have also been shown to increase house prices.
---
Why do you need a BS5837 survey?
Working from a CAD drawing with accurate tree locations, BS5837 surveys are designed to collect accurate data for each tree. This includes assessing their condition and categorising them according to their quality. Tree dimensions are also accurately measured: this is important for being able to design around trees on a development site.
This process will mainly concern developers, architects, engineers and construction site managers, but can also apply to home-owners who are planning property improvements or development.
AVA's professional tree consultants use up-to-date mobile technology to capture data on site, and to provide you with easily-digested information that will enable the safe and systematic management of your trees – before, during and post development.
---
Plan ahead with professional help
It is advised that a BS5837 survey is carried out prior to any development design, as the presence of trees on a site can cause constraints for the design. Find out more on the British Standards website.
RIBA recommends that the BS5837 report should be submitted as part of Stage 1 of your Plan of Work.
Our CAD enabled software accurately plots trees with their identifiers, root protection zones and other important dimensions, providing information that can then be easily used by the architect to design around the trees.
Arbor Vitae Arboriculture will provide a full report with relevant data and plans (available in DWG and DXF format) to aid you in decision making.
---
View an example: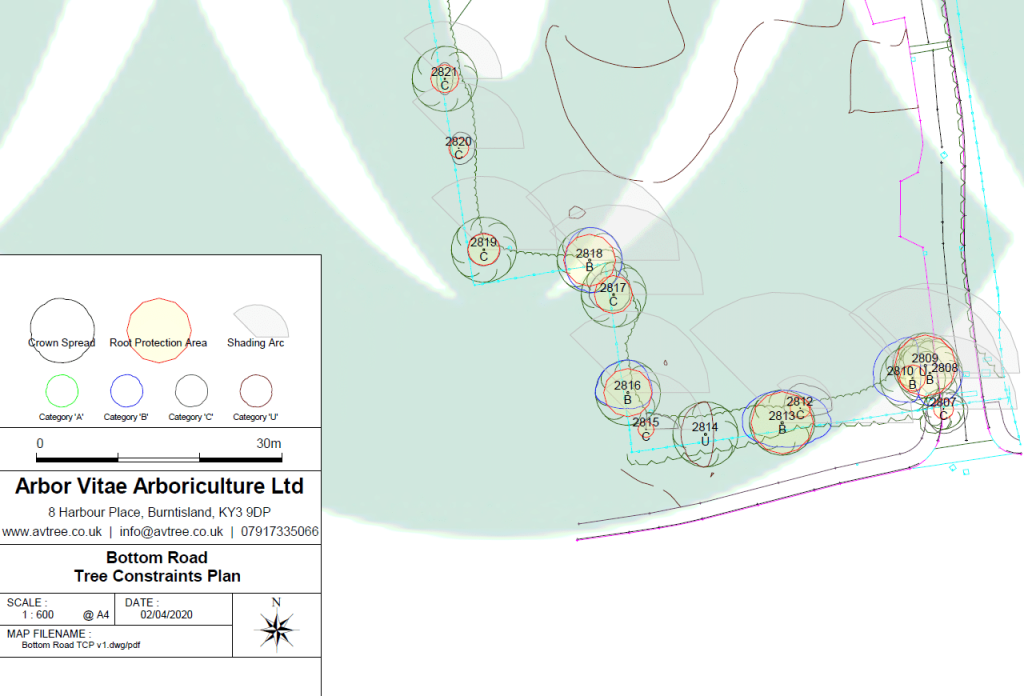 ---
BS5837 Reports
If the BS5837 survey highlights consequences for retained trees on a proposed development site, the local planning authority is likely to request further information.
We work closely with architects, developers, engineers and construction firms to mitigate conflict between trees and development work. This process is recorded in the following documents:
Working around trees can lead to conflicts with tree roots, therefore it is sometimes necessary to locate where the roots are. There are several methods of detecting tree roots including using an Air-Spade, Ground Penetrating Radar or careful hand-digging; we can advise on which method is most suitable for a specific site.
We also provide an Arboricultural Clerk of Works service, providing on-site support and advice for working with conflicts with trees.
---
---
Please contact Arbor Vitae Arboriculture for further information.