Arbor Vitae Arboriculture are proud to have planted far more trees than we will ever cut down
Good knowledge of how trees grow and thrive, and what harms them, is essential in tree planting. We have years of experience and professional training in this area.
Tree planting work usually begins with a site assessment to determine which trees would be most suitable for the conditions, including climate, soil, exposure, aspect and geographic area. It's not just a case of digging a hole and throwing soil back in!
We have also been involved in planning and planting a Miyawaki forest. This method tries to mimic nature and involves the dense planting of small plants. These small plants generally need less aftercare and should become resilient faster than traditional planting methods. The area planted can be as small as a couple of square metres or a couple of tennis courts. 
If you are looking to create a naturally thriving Miyawaki forest please read more about how we did it and the benefits of the method.
Planting done properly
Planting a new tree can be relatively inexpensive, when the cost is calculated over its projected lifespan, however the cost of tree planting increases exponentially depending on the size of the tree.
Trees from sapling size to around 4-5 metres can be planted by hand but anything bigger would probably require machinery (sometimes a crane) to lift them into place.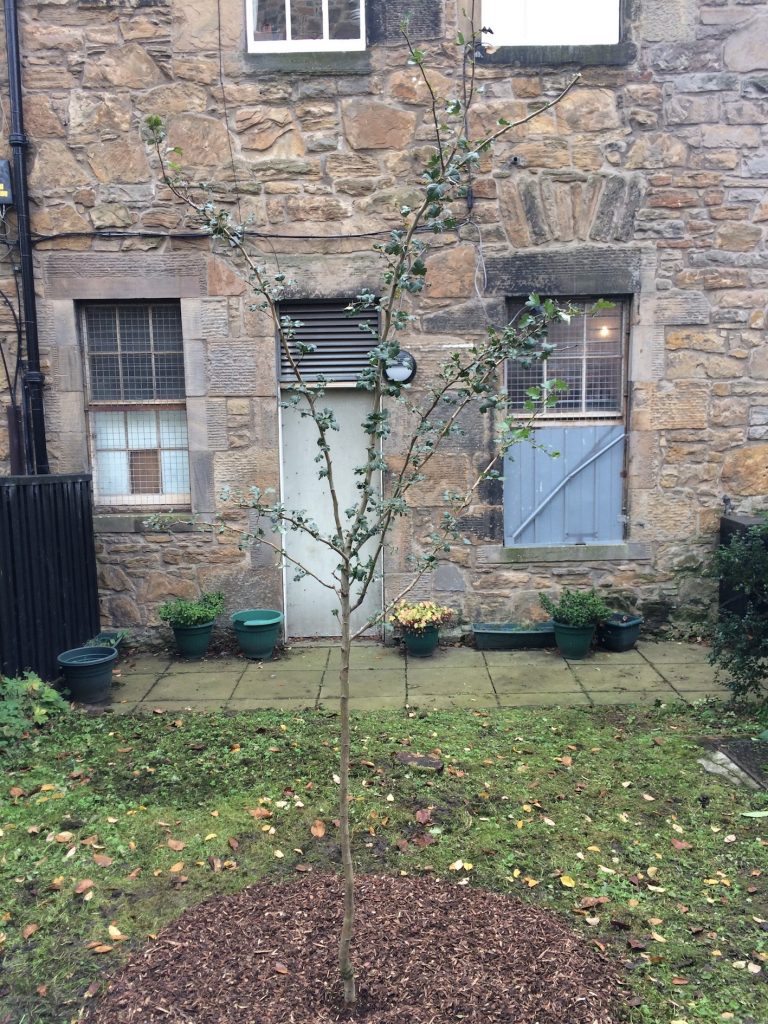 Whatever you want to plant, the experience is a very positive one. There are so many species of trees available that there will always be one that you can enjoy, whether it is for the colours of the leaves or flowers, for the harvesting and eating of the fruit, for shade, to add structure to your garden, to increase wildlife in your garden, or simply to know that you have done a good thing for the environment.
The importance of tree aftercare
Many trees that have been looked after in tree nurseries may die within a few years of planting due to poor planting and/or aftercare.
Arbor Vitae Arboriculture always recommend a programme of aftercare for new trees, to help them establish successfully. This may include formative pruning, watering (depending on the size of tree and time of planting), removal of weeds and replacement of mulch.
The Arboricultural Association has produced a set of helpful guides about establishing young trees that you can download directly from their website here.
If you would like help with planning a Miyawaki forest or establishing your new trees then please get in touch.