Tree reports, or arboricultural reports, document the information collected in the tree survey. This information is used to make judgements about the risk or nuisance that a tree or trees may pose.
Arbor Vitae Arboriculture work with both tree owners and developers to provide a range of tree reports.
---
What is an arboricultural report?
Different tree reports are available for commercial and domestic tree owners and for property developers.
The on-site tree survey assesses the condition of your trees. The arboricultural report documents the findings of the survey to allow the tree owner or manager to plan management works to reduce risks and nuisances from trees.
The report will include prioritised work recommendations to reduce the assessed level of risk or nuisance of the tree(s) as well as a timetable of recommended re-inspections.
Tree reports are commonly requested following a BS5837 survey to assess potential conflicts between a development site and retained trees. These are often referred to as a pre-development or pre-planning report.
The information provided in these reports can enable the development to proceed with minimal harm to the trees, often achieved by using special engineering techniques and porous surfacing.
---
View example reports: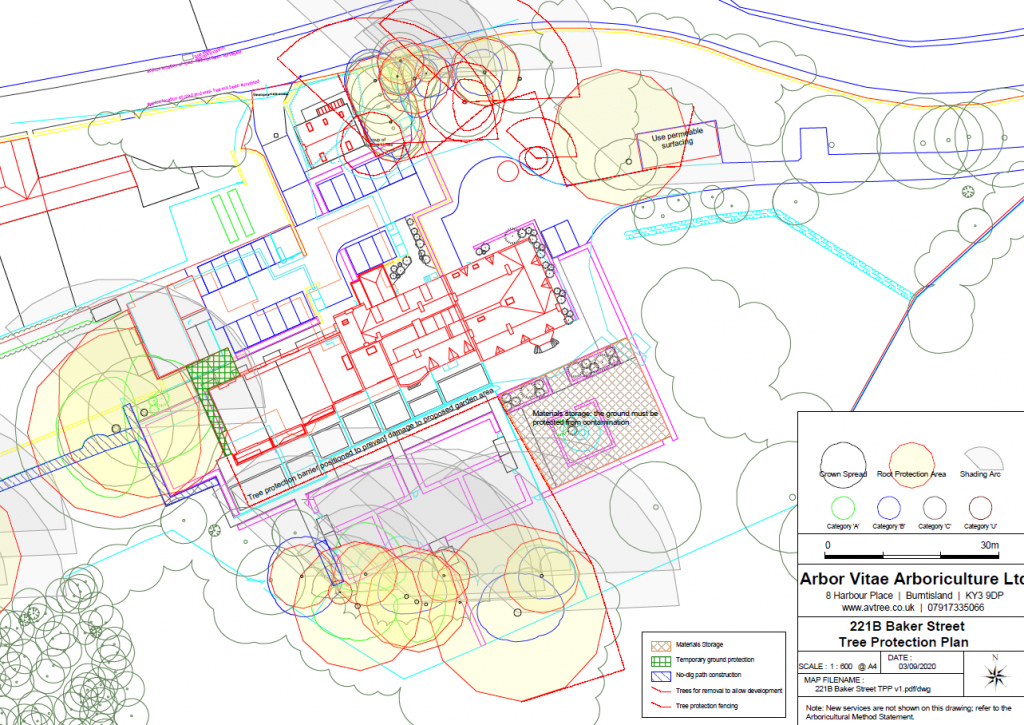 ---
Additional arboricultural reports
Working closely with architects, developers and construction firms, Arbor Vitae Arboriculture provide the following tree reports:
---
Arboricultural Impact Assessment (AIA)
If a proposed development could have consequences for retained trees, the local planning authority is likely to request an Arboricultural Impact Assessment, or 'AIA' report, to highlight the conflicts.
The AIA includes evaluation of the direct and indirect effects of the proposed development on retained trees, and recommended mitigation measures to minimise the conflict between the proposed construction and the trees.
Once the conflicts have been evaluated, methods for designing around the trees without causing damage need to be detailed: this report is known as the Arboricultural Method Statement.
Finally, the Tree Protection Plan will show information such as tree removals, retained trees, protective fencing, types of surfacing, level changes, service runs, facilitative crown reduction work and any special engineering techniques.
---
Arboricultural Method Statement (AMS)
The Arboricultural Method Statement, or 'AMS' report, follows on from the BS5837 tree survey and the AIA report. It proposes measures to mitigate for certain conflicts between trees and the development, including:
Root protection area (RPA) incursion
Shading from trees
Interference with tree crowns
Future conflicts with trees
Demolition, ground level changes, new surfacing and new services
These measures are aimed at protecting retained trees from harm during the development works.
A Tree Protection Plan is included with each AMS.
---
Tree Protection Plan (TPP)
The Tree Protection Plan shows the recommended placement of tree protection barriers and the location and type of ground protection required to minimise tree damage. The TPP may also include details of service runs, working space, ground level changes, site access and storage, landscaping areas and special construction techniques.
This plan is essential for the construction team to design, plan and co-ordinate works so that retained trees are not damaged.
---
Please contact Arbor Vitae Arboriculture for further information.